July 20, 2022
Posted by:

10bits_mexican

Category:

IT Consulting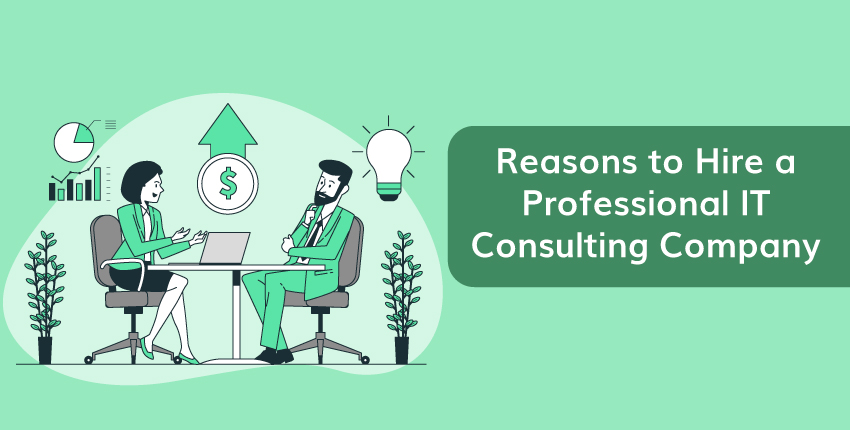 Hiring a professional IT consulting services company helps in improving your business' IT capabilities. There are many factors on how it adds value to your business or organization. The professionals at these companies understand the complexities of the technology industry and will be able to provide solutions to your unique business problems. These professionals can help you implement new technology and train your team on how to use it. You'll be able to maximize ROI and avoid costly mistakes by letting them handle the project for you.
Hiring IT consulting companies in USA is an excellent way to stay up to date with market trends. They will be able to give you objective advice on what technology is right for your business, and they can assess how new technology will impact your business.
Importance of IT Consulting Services
A professional IT consulting firms in USA will be able to provide all of the resources that a company needs on a scalable basis. Many businesses fail because they fail to recognize opportunities in time. IT consultants can help companies see those opportunities and take advantage of them.
Understanding a Client's Business Requirements
Choosing an IT consulting firm can be difficult, and some organizations assume they must hire a large, well-known company. While the large name may sound appealing, there are disadvantages to hiring a big firm, and smaller firms have specific advantages over larger ones.
Smaller IT consulting firms are better at understanding a client's business requirements since they focus on a single client. This allows you to work more closely with the right people without dealing with multiple layers of managers. It also means faster communication, less wasted time, and less red tape. Additionally, boutique IT consulting firms care about their clients and want to earn their trust and recommendations.
Get an outside perspective
When it comes to making decisions, companies and individuals often look for an outside perspective. They may be thinking about the solution themselves, but they want an unbiased opinion. This outside perspective can give them new ideas, and it can also reveal any operational or financial inefficiencies. In addition, consultants may have connections in certain markets or a skill set that you don't have.
Analyzing Your Company's Infrastructure
Before you hire an IT consulting company, you should analyze your existing infrastructure to determine what needs improvement. If you have too many unsupported devices, outdated software, or a poorly managed network, you may want to hire the best IT consulting companies to help you out. These professionals will assess your current IT environment and suggest solutions to modernize it, ensuring that your business isn't affected by downtime or a disaster.
Identifying opportunities
A good IT consulting firm will be able to provide you with a range of services. Technology consulting, for instance, involves analyzing a client's IT systems and recommending changes that will improve productivity. A legal consultant, on the other hand, can advise a business on the law. These individuals can conduct research, draft contracts and briefs, and even negotiate on behalf of their clients.
Training To Your Employees
While your IT department may be well-staffed, the skills of its staff are limited. Hiring a professional IT consulting company can help your organization identify the areas of weakness and boost its performance. The IT consultants can also provide training to your employees so that they are better able to manage the new technology in the workplace. In addition to providing training to your employees, they will also be able to help you develop a culture of continuous improvement in your IT department.
IT consultants have vast experience in all aspects of IT and can scale up or down as required. Businesses fail because they fail to see opportunities in time and do not implement them. Hiring an IT consulting company is an effective solution to this problem because they have completed many similar projects in the past. Your company will benefit from objective guidance, reduced costs, and extra security. In addition to that, IT consultants can help you with budget planning and managing development teams.
When hiring a professional IT consulting company, you are bringing in someone who is an expert in the latest technologies and can help your company implement those technologies to increase efficiencies and productivity. A consultant can help your company explore new opportunities, find creative solutions, and manage the ever-changing landscape of technology. The end result is a better bottom line, not to mention greater productivity and profitability.
Hiring a professional IT consulting company can save you money. Hiring a full-time IT expert can be expensive, and the benefits of hiring IT consultants can outweigh the cost. Additionally, IT consultants are trained to handle a specific problem within a short timeframe. With these benefits, you can reduce your company's expenses and boost ROI by hiring a professional IT consulting firm. However, it is always best to make sure that the IT consultants are certified.