May 12, 2022
Posted by:

10bits_mexican

Category:

IT Consulting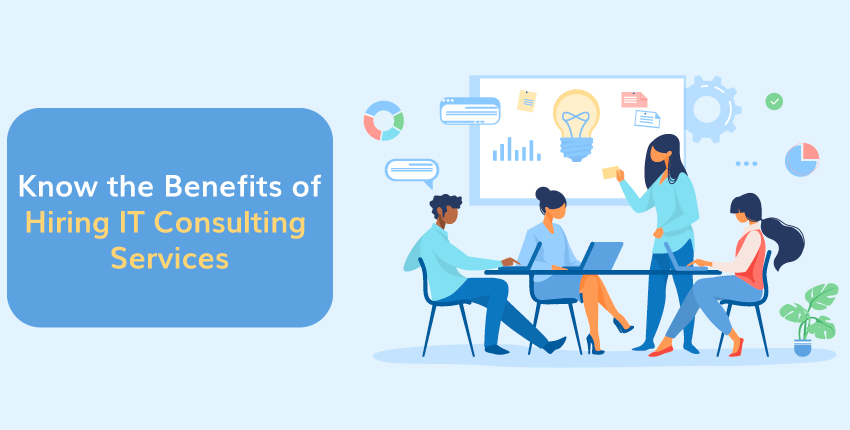 IT Consulting Services are services provided by external consultants to businesses. These professionals look for ways to improve your company's IT infrastructure. They can also advise on software and systems options. These professionals provide guidance on how to implement a technology strategy and determine which types of technology are best for a specific business environment. Typical services offered by IT consultancy services include:
Bespoke software development
Data recovery and cloud services
The creation of security systems
The cost of IT consultancy services varies depending on the number of consultants that are involved and how many days they spend working on your project. Some IT services, such as network design and capacity planning, charge a fixed fee. Others have a range of deliverables and will evaluate your business model and needs to determine the right solution for your needs. However, they are an excellent choice for companies who need help with a large volume of work or have a large IT budget.
Benefits of IT consulting services: Why Hire them?
To Know the Benefits of Consulting to the business organization, give this segment a thorough read!
Saves Money
In order to run a successful business, you need to focus on building your company. In addition to cutting down on expenses, IT consulting firms can improve the efficiency of your organization. A cost-reduction expert can pinpoint problems in your business and suggest ways to plug them. Your company's efficiency can increase when you focus on building your business instead of on addressing technological issues. They can compare prices and find the lowest rates for your services. In addition to saving your company money, you will also be able to reduce the overall cost of running your business.
Reduce Downtime
One of the benefits of IT consulting is reduced downtime. Downtime is wasted time and resources. While downtime is usually caused by hardware and software failures, it can also occur due to human error. While downtime is inevitable, most companies do not have a process for recovering from it, which leads to a long recovery period. Furthermore, downtime can negatively impact a business's credibility and monetary implications. The IT consulting company can help companies cut downtime by providing security backups and ongoing system maintenance. These services will also reduce overall costs and operating expenses.
Boost Productivity and Effectiveness
IT consulting services help businesses improve the efficiency of their technology. They offer more than basic hardware and software maintenance. They can also provide strategic advice and long-term planning. Hiring a consultant can help in assisting and implementing one operating system across all your company's computers, solving your compatibility problems. You'll get consistent security updates without worrying about faulty security patches. IT consulting services can help improve your company's core competencies. Employees are most productive when they focus on their core responsibilities. These professionals can help you keep your employees focused on their jobs and improve your bottom line.
Offer Expert Advice
While you may have a good idea of the advantages of embracing newer and more advanced technology, a consultant can point out a few ways you can improve your business. IT consulting is an integral part of an overall IT strategy, so it's crucial to choose the right partner with the right expertise. A consultant will evaluate your current IT infrastructure and plans and help you balance those plans with your business objectives. The best consultants will provide recommendations that help your business grow, and that's a big part of what makes them so effective. They'll also make sure your IT operations run smoothly.
Focus on Your Business
Most employees perform better when they focus on what they do best, and IT consulting services can make this happen. From helping you set up your new website to troubleshooting software applications, IT consultants can help you maximize your time, improve your bottom line, and save you a great deal of stress. The consulting services help you focus on your core competencies and take care of the non-core business operations and functions on your behalf.
Enlarge Your Business
Increasing your business requires additional creativity and innovation to remain competitive. Fortunately, the experts at IT consulting companies can assist you in this process. In this day and age, having an online presence is as important as a physical one. Today's customers are looking for businesses with a strong web presence, so it's crucial for companies to have the right online presence. Using an IT consulting firm can help you optimize your website to attract more visitors and enhance your business's online marketing efforts. By using the best practices, you'll ensure that your customers are always satisfied and that your business can stay ahead of the competition. A professional IT consulting firm will also guide you to avoid risky behaviours and implement effective security and data protection solutions.
Offer Greater Cybersecurity
An IT support company can help you determine what your company needs in terms of cyber security. These professionals can help you avoid breaches and recover data if you have suffered a data breach. Outsourcing your cybersecurity needs to a third party can save you a great deal of money and ensure that your customers can trust you. The right cybersecurity consultant will help you make the right decision for your business.
Attract and Recall Employees
In order to keep their talent pool fresh, IT Consulting Services must offer exceptional job descriptions. The best IT professionals know how to communicate with their potential and existing customers (company employees). They get the right candidates for the right job to avoid any mishaps in the future. For the existing employees, troubleshoot their problems and help fix the gap between their expectations and job requirements.
Conclusion
Whether your company uses the latest technology or is trying to find a new way to streamline operations, an IT consultant can help. The services offered by IT consultants are crucial for the success of your business. They can offer you access to hundreds of IT experts and resources who can help you. Moreover, you can benefit from round-the-clock technical support. Furthermore, managed service providers offer one-stop solutions for all your IT needs.