Healthcare
Reimagine Healthcare with New-Age Technologies 
Now that practitioners and patients across the world have grown comfortable around digital services, it is the perfect time for healthcare organizations to implement digital strategies into their systems.
We are here with the most advanced agile solutions to keep ahead in the race. Be it web, mobile app, wearable or IoT, we have masters from every trending technology in the industry.
We can help you:
Manage medical data
We can help you consolidate and update patient data (like medical history and test results) in a streamlined manner. And as you save time on administrative tasks as such, you can concentrate on other valuable healthcare deliverables.
Keep patient's data secure
Use blockchain technology and data tokenization to avoid any or all impending risks related to patient data loss and leakage. Make way for reliable, decentralized data usage system and enable patients to access their healthcare information easily.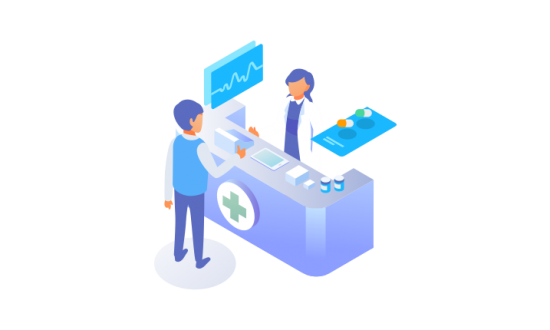 Make healthcare affordable
Make healthcare accessible to more people, irrespective of their geography and language barrier. We can help you adapt VR and connect medical services. Let patients avoid costly trips to hospitals with our team of experts in telehealth technologies.
Use data analysis software and advanced scheduling apps to update and circulate staff schedule in real-time.
Implement automation tools and data analytics to optimize the supply chain for value-based care and make it more attainable.
Increase medical competency
Streamline primary medical operations with the power of technology. Our experts can help you convert front desk operations, billing procedures, etc. into digital entities. Incorporate online appointments, e-health records, and real-time communication to increase efficiency.
Upgrade the ability to diagnose diseases, reduce/prevent medical errors and deliver better patient care.
Allow evidence-based decisions with virtual checkups and manage in-person appointments through special applications.