June 1, 2021
Posted by:

10bits_mexican

Category:

Staff Augmentation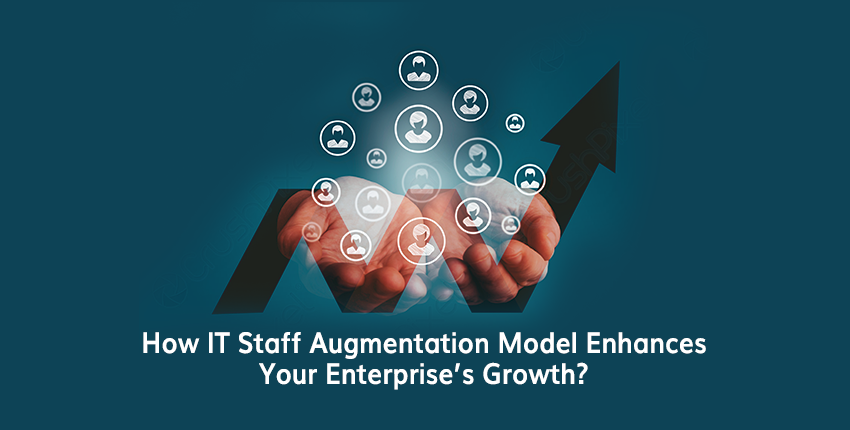 Inside Information Technology (IT), the time and money spent over finding any suitable engineer (s) for a given project are exhausting. It becomes much more challenging when your company's team must be extended further. The only solution to resolve this tiresome recruitment process is to employ the system of staff augmentation. The following points will get you insightful facts about how the framework of IT staff augmentation benefits your business too.
A Quick Note on Staff Augmentation
The staff augmentation model combines the features of both outsourcing and in-house hiring systems. So, this is a recruitment service useful to get in on-field experts for your office, just to augment your organization's human resources requirement. Based upon the staff augmentation company in the USA that you work with, this outsourcing strategy can be applied for any department, any duration, and from any region across the globe.
To your added knowledge, some of the popular tech designations you know such as QA engineers, designers, programmers, marketing specialists, and system administrators are nowadays hired through this staff augmentation strategy.
The Different Types of IT Staff Augmentation
There are actually 5 variants to the staff augmentation services and you can opt for the one based on your professional requirement (s). Note that the other 3 variants fall under the 2 major umbrella categories as follows below:
Short-term: When your in-house members are absent or if an important person in your company/project has applied for a long leave, then you can use the short-term staff augmentation. To put it crisply, 'short term' staff augmenting process works for highly seasonal business demands.
Long-term: The most famous way to fill in your skills gap and ensure the best expert handles the job, long-term staff augmentation comes beneficial. This methodology also works at times of prolonged hiring needs. You can greatly cut down the operational costs through long-term staff augmentation.
Based on the above-said, you can indeed have three more exclusive options;
Commodity-Based: Go with commodity-based outsourcing, if you would require employees with a minimum or no prior experience and skills; to be trained.
Commodity-Based: Go with commodity-based outsourcing, if you would require employees with a minimum or no prior experience and skills; to be trained.
Highly-Skilled: There are various professional designations that emphasize sufficient experience and well-developed skills. Here, highly-skilled staff augmentation benefits the situation.
How Staff Augmentation Improves Your Business?
If you are questioned on how does staff augmentation work, a few possible business scenarios are to be discussed – either you don't want to fully hire a professional or your company simply needs skilled ones to bridge the human resources gap in-house. For those situations, staff augmentation is the recommended model. Moreover, this outsourcing method;
Even helps you to get developers who are not readily available in your existing market.
Gives you the biggest perk of finding employees from other international boundaries too.
Rather than in-house hiring, outsourcing rates are greatly affordable. You are only liable to pay the service charges to the respective vendor.
Serve as a temporary solution when you are trying to hire a permanent team.
And, if your company lacks that competitive edge in that industry, then employing some top-notch specialists, through the staff augmentation model suits your enterprise precisely!
The 4 Key Benefits of Staff Augmentation
Apart from the mentioned details on bridging the skill gap and getting international expertise, there are some more notable benefits of staff augmentation that your business might want next:
Unlike the in-house members who are delegated projects and work on them, outsourced experts are usually agile and scrum masters. So, you will have better progress visibility and overall transparency in the works.
When working with any renowned staff augmentation companies, you and your business is their first and top priority. Being a client-centric system, the staff augmentation framework will provide you with accurate skills that can aid your company's development.
At any given point in time, you won't have any limitations over the count of hiring people. Why because staff augmentation gives you the benefit of recruiting as many developers as you need, even for seasonal and holiday times.
When it comes to start-ups, your business cannot spend too much on getting full-time waged or permanent employees, at least in the beginning. With IT staff augmentation, you are payable on for their works and commitment to the project, and not over the bonuses and other hikes.
Therefore, summing up all, staff augmentation cuts down your operational costs, still immensely impacting your business productivity and turnover!
How to Succeed with a Team Augmentation Service?
Some of the staff augmentation best practices are highlighted in this context.
Choose an experienced company rather than newbie vendors.
If hiring local experts, ensure to do a background check from the vendor itself.
Prefer vendors who are near to your time zone.
If hiring non-local professionals, verify what languages they are comfortable in.
Check if the company also gives you HR or project managers, along with the developers.
Remember, that you must put forth your requirements openly to the vendor and present the company with all the details. Make sure that you point out why you are in need of staff augmentation services at that time; since a few businesses go with this strategy to extend their team and some might want to add in new skills. So, that the vendor can offer you the best option possible.
Your Takeaway
If you are still hesitant about why use staff augmentation for your business, then here are some summarized facts. Recruitment is a time and cost-consuming process, yet staff augmentation helps reduce operational expenses and gives you highly skilled developers. This framework suits companies that wish to extend their team or want employees during high-demand times such as seasonal occasions and holiday periods.
Last but not least, higher efficiency, transparency, prompt project completion, bridged skill gap, international expertise, flexibility, etc. are the probable perks. Remember, to choose experienced vendors, who are close to your time zone.