May 17, 2022
Posted by:

10bits_mexican

Category:

Staff Augmentation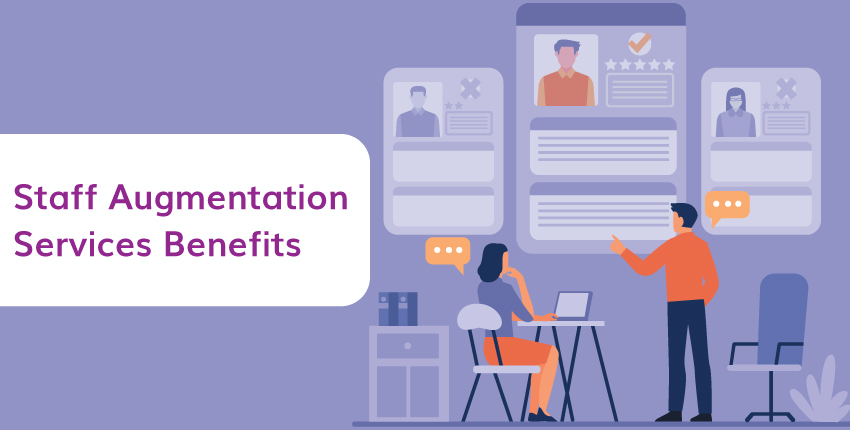 In addition to lowering your payroll expenses, staff augmentation can help you save on opportunity costs and real dollars. It eliminates the need for benefits, overtime, and training time. Instead of having to hire entirely new staff, you only pay for the employees you need, and they can come to work only when you need them. They give you more control over the project and cut costs without sacrificing quality. Unlike outsourced staff, you will be able to choose the exact level of experience that you want for your project. You can also avoid sacrificing quality or risking a poor outcome if you hire the wrong staff. Let us take a look at these advantages one by one.
Benefits of Staff Augmentation
When you're looking to hire new talent, experience matters; while hiring an internal team is beneficial, you need to know that staff augmentation can be a less expensive and efficient solution. The best staff augmentation providers will research the company and make sure that their talent is able to integrate well. The best companies are also willing to do background checks to ensure that they can deliver high-quality professionals. Experience Matters for staff augmentation services.
It Gives You More Control
This service lets you hire the talent you need, and the vendor takes care of the administrative and organizational headaches. By hiring a professional to help you with your project, you can focus on your core business activities and keep a close eye on your augmented team. However, you should be careful when selecting the right staff augmentation company. There are certain best practices that you must follow, and it is essential to set clear expectations for your project. Otherwise, you may end up with several iterations of the same project and wasted resources.
Cut Costs Without Sacrificing Quality
Remote staff augmentation services offer the flexibility and affordability needed to reduce operational costs without compromising quality. Unlike hiring full-time employees, staff augmentation services let businesses hire experts who can dedicate 100% of their time to a particular project. Not only can they save money on overhead, but remote workers are more flexible and creative. The savings they can make on operational costs translate into higher profits.
It's Better than Completely Outsourcing
Outsourcing is usually more expensive than staff augmentation. However, if you can't afford to hire a full-time employee, you may be better off hiring a managed service provider. These companies have developers on staff and can start working on projects immediately. One major benefit of staff augmentation is that it allows businesses to add additional staff based on their needs instead of hiring an entire company or team.
Choose the Skills you Need Most
Your company may experience a sudden growth, or it may just need additional resources to keep up with new projects. You can choose the skills you need most, but also the location, so you can find the best match for your needs. A talent audit can help you determine your short-term and long-term needs. Staff augmentation can help you bridge these gaps in your team.
It Allows You to Scale Your Business Faster
Staff augmentation services let you quickly scale your workforce without incurring the costs associated with hiring full-time employees. With the right staff augmentation service, you can add three to four developers to your team in just a few weeks. Whether you choose a traditional or contingent staffing model, quality and cost will be the most important factors. When selecting a staffing service provider, look for a firm with proven methods and systems for identifying needs and hiring staff across countries.
With the help of Staff Augmentation Services, your team can focus on a single project instead of running multiple projects at once. The benefits of hiring an outsourced team are numerous, from boosted flexibility to boosted productivity. You can take advantage of their turnkey access to specialized skills and services without incurring additional costs. The vendor will manage the staff, handle all organizational and administrative hassles, and ensure the quality of work. You can focus on your core responsibilities and collaborate with the augmented team. They are flexible, allowing you to add or cut staff resources as needed while keeping EHS priorities front and center.
It Earns You an Objective Perspective
In-house employees often get too comfortable with their workflow and office policies. Their preexisting loyalties may also limit their objectivity. By hiring temporary staff, however, companies can gain an objective perspective that is often difficult to obtain. New staff members can help identify inefficient and wasteful processes and help make them more efficient.
Staff augmentation allows you to hire skilled individuals without having to hire full-time employees. This helps you avoid the time and expense of hiring and firing employees. Staff augmentation services can help you avoid the time and money wasted in navigating the hiring process, as well as the paperwork involved in full-time employment.
By choosing a staff augmentation company in usa, you can enjoy better management. The professionals bring the skills and expertise of other companies into your organization, thereby reducing the workload of your own employees. They also bring diversity into your workplace. These employees help you create interdisciplinary, international teams.
One of the greatest benefits of Staff Augmentation Services is the ability to add new talent quickly. Unlike traditional employee hiring, staff augmentation vendors can provide quality personnel on a short-term basis. Choosing to hire staff on a short-term basis can significantly reduce the fixed costs of a small company, as the company does not have to worry about onboarding new employees or setting up office space and workstations. Furthermore, staff augmentation services enable organizations to maximize their resources and keep costs down while elevating efficiency.
Conclusion
Staff augmentation can help you avoid the costs and time associated with recruiting and maintaining full-time employees. Hiring a professional from an external agency can save companies time and money, and it also allows them to focus on business development. Outsourcing your IT needs to a staff augmentation agency can help you avoid these costs.