May 17, 2022
Posted by:

10bits_mexican

Category:

Staff Augmentation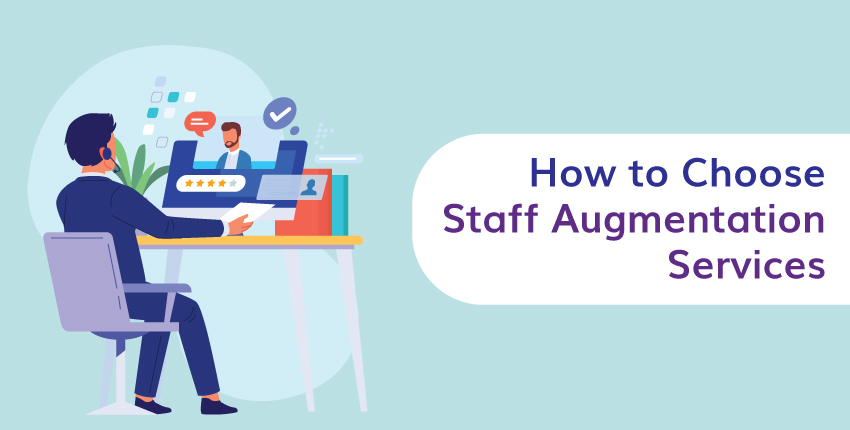 Before you begin the selection process, it is important to determine your staffing needs. Be specific in your search. Be sure to research the experience and expertise of any staffing partner. Below are some tips for choosing a staffing partner. Read on to discover more about staffing and how to choose the right one for your needs. A firm that can demonstrate its commitment to security is a reliable partner. If they cannot provide security assurance, you should look elsewhere.
How to find an Staff Augmentation Services  
Assess Your Staffing Needs
It is imperative for companies to assess their staffing requirements before selecting staff augmentation services. The staffing needs of a particular project should be noted, and the vendor's ability to integrate provisional talent and collaborate with onshore staff should be assessed. The flexibility of the approach to staffing should be analyzed as well. In short, a staff augmentation provider should be able to meet the project's deadlines, be responsive to changes in the schedule, and be flexible in the approach it takes to achieve the best results.
When selecting staff augmentation services, it is imperative to research the company's experience and culture and consider its financial resources. For example, if your company is based in remote regions of the U.S., you'll want a staff augmentation company in usa with a global reach
Before selecting a staff augmentation service provider, be specific about your hiring needs. If you want a staff augmentation service provider to meet all your hiring needs, the firm should provide tailor-made work agreements. Make sure the company you choose understands the development environment of your business and its culture. They should also provide employees that fit your corporate culture. If you aren't sure which kind of provider you want, read customer reviews online to find out what others have to say about their services.
Research Your Staffing Partner's Experience and Expertise
Before selecting a staff augmentation firm, it's important to research its experience, expertise, and track record in the field. Staff augmentation companies should be proactive in anticipating industry tech and trends and understand the unique demands of a project. The best ones have their finger on the pulse and are constantly looking for in-line talent to help businesses grow. They also understand the nature of a project and its requirements and can provide the guidance and support needed to make the best decision for your business.
Evaluate their communication skills
You should evaluate the communication skills of your staff augmentation professional before hiring them. Otherwise, you may face difficulties implementing changes. The communication skills of a staff augmentation professional should meet your needs. Otherwise, it is pointless hiring them. Whether your business requires the assistance of offshore staff or employees, the communication skills of your partner should be compatible.
Evaluate Local, and International Market reach
One of the most important aspects to consider when selecting staff augmentation services is their global and local market reach. If you are a global organization, finding a staff augmentation provider that has global influence is vital. The company you choose should be able to provide you with a team of experts that are capable of meeting all of your staffing needs, and it should also have systems and processes in place to ease the staffing process.
Consider their security precautions
Cybersecurity staff augmentation services are the latest solution for businesses today. As technology advances, so does the threats that hackers pose. Most companies do not have the resources necessary to manage security programs in-house, and cybersecurity experts are a perfect fit for such a service. Security advisors work with businesses to establish the best cybersecurity solutions and practices and provide ongoing feedback to help them improve their overall cybersecurity program.
Examine Staffing Service's Communication Protocol
A key aspect of any staffing service is its communication protocol. It should be transparent and practical. The best staffing agencies should be able to communicate regularly with their clients to monitor the progress of their project, make necessary adjustments, and maintain the confidentiality of both employer and applicant data. This allows for more effective project management and better measurement of supplemental staff performance. This also makes it possible for businesses to address team challenges and issues more effectively.
The project schedules of staff augmentation services differ from other types of outsourcing. Staff augmentation services have proven effective in projects, with many of their employees have faced similar roadblocks on previous projects. As such, they have acquired effective techniques and solutions for common problems. This experience is invaluable to organizations not familiar with similar challenges. These advantages make staff augmentation services ideal for projects where the organization needs extra hands and technical expertise. And because they are paid on a per-hour basis, their project schedules will be more flexible than those of in-house staff.
Verify Your Vendor's Commitment to Security
When choosing a staff augmentation service, it is critical to check that the vendor is committed to security. A reputable staff augmentation company will require NDAs from all its temporary employees and thoroughly screen each one. A reputable staff augmentation firm will also train its temporary staff on IP and data security protocols. Finally, a secure work environment is imperative to protect your company's sensitive data.
Assess Contract Types and Delivery Schedules
When evaluating staff augmentation services, assess contract types and delivery schedules to determine which provider is right for your needs. You should be able to find a firm that offers customized contract types and delivery schedules for your unique needs, but the right vendor should also take the time to understand the development environment of your business and ensure that the talent you hire is capable of meeting your requirements. Also, a good vendor should be able to provide you with the necessary expertise for a project and manage all contract communications with ease.
Conclusion
The concept of staff augmentation works on the team extension model. This method enables companies to hire and replace highly qualified professionals in the most critical areas of their business. These services are perfect for companies with shifting workloads and unpredictable demands, allowing them to complete projects with any level of complexity.