May 12, 2022
Posted by:

10bits_mexican

Category:

IT Consulting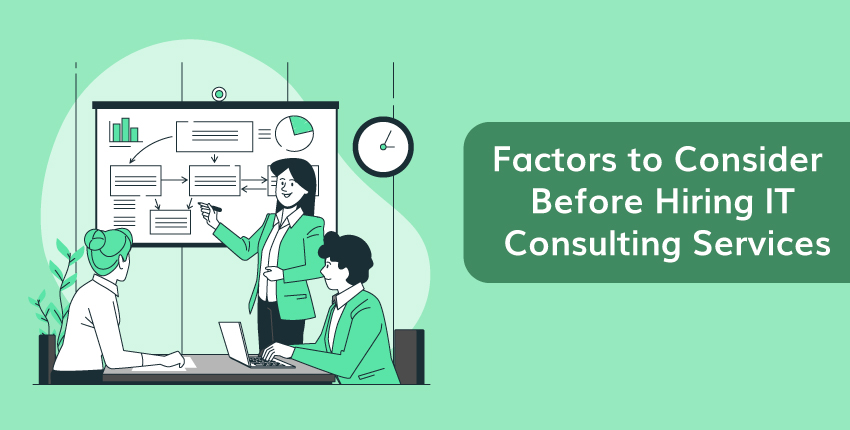 An IT consultant is a highly-skilled professional with expertise in a particular field and a wide range of skills and knowledge. They can take a broad view of a problem and recommend solutions that will optimize a company's overall performance. IT consultancy services will usually evaluate a company's workflow and recommend the types of systems and software it should use to improve the efficiency of the business. Many software companies also act as IT consulting services company as part of the purchase of their products. The best IT consulting companies in usa will also provide a single point of contact for any problems that arise, ensuring that the right solution is delivered to the right client.
Important things to consider before hiring IT consulting Services
There are a lot of IT consulting Hiring factors that a company must adhere to if they want to hire consultants that are industry grade and competent. Here are a few tips for hiring a consultant before you go for a head dive.
Authorizations
Many consulting firms have accreditations and affiliations that you can look for. In addition to accreditations, consultancies should have references from past clients so you can see how they work and how well they can communicate with other team members and executives. Having a list of these references is essential for ensuring that you are working with a reputable and experienced company.
Good experience and Record of Success
Suppose you want a consulting firm that has the relevant experience to meet your needs. You must make sure that the people you're hiring are reliable and competent. Before hiring an IT consulting firm, be sure to check the consulting company's credentials. Make sure the firm has experience in the industry that you are in. It will also make sense to work with a firm that has a proven track record in your field of business.
Professional behaviour and Methodology
A good IT consultancy service will document the process that they use. Documentation allows the company to identify lessons learned, identify best practices, and improve processes. In addition, it can also help the organization develop and modify its project management system. The majority of IT consulting projects use formal and informal communication methods. A consulting company should always have a documented policy in place to prevent unauthorized access to information that belongs to the client. It should also have a procedure for dealing with complaints.
Professionalism and good business ethics should be observed by consultants. The firm should adhere to strict business ethics and standards. It should not use Company resources without permission, accept assistance from others, or engage in activities that would lead to the infringement of third-party rights. Moreover, a consultant should have a clear sense of responsibility.
Cost structure
It is essential to know that a consultant's fee is not the only cost but also includes the costs of the materials used and the transport. There are hidden costs that you should also look into. To know how much a consulting service costs, you can first look at its cost structure. The most important thing to do is to compare the service and its margin.
In order to check the cost structure of an IT consulting service, you must look at its total cost of revenue. The income statement will show you the total cost of revenues but not the cost of services per service. Then, you can compare the company's profit margin with the industry's average.
Communication skills
Effective communication is vital to the success of any consulting service. It is crucial to check their ability to effectively convey information. Good communicators know how to convey ideas in a clear and concise manner. They accept feedback graciously, ask clarifying questions when needed, and put their feedback into practice.
This skill is a natural result of a consultant's relational qualities, and it is shared by the best business leaders and consultants. Good consultants have confidence in themselves, and their ability to communicate is an integral part of this trait. Those who have this skill develop politeness, friendliness, and an ear for detail.
Critical thinking capacity
The key to an effective business strategy depends on a company's critical thinking capabilities. While many firms default to taking as many clients as possible, others carefully analyze the impact of a client's decisions and develop rules that require them to say no. A top consultant's critical thinking process consists of a process. First, a professional must frame the real problem. Second, they must scan available data, develop an initial hypothesis, and prioritize needed data. Finally, they must test the initial hypothesis to ensure its validity.
The key to a successful relationship with an IT Consulting Service is that they have the ability to be sensitive to the needs of the client. Ultimately, the client will benefit from effective and efficient service.
Workstyle
When hiring an IT consulting service, you need to ensure that the consultant has the right work style and culture for your company. A firm that doesn't think outside the box will be less effective. You should discuss your main concerns with them before hiring them. It's also important to ask them for a consultation session. The process will help you determine if the consulting firm is right for you.
The best way to find an IT consulting service is through recommendations. Check their LinkedIn profiles and blog posts. These can provide an insight into their personality and consulting styles. It's essential that you find a consulting service with high emotional intelligence and a corporate culture that matches your own.
Conclusion
Make sure the consultants you work with communicating solutions in an understanding manner. You should also feel comfortable working with them. They should be able to listen to your employees' concerns and ask questions. Having a consultant who can talk to them in an open and friendly manner is always a good sign. And don't forget to express your gratitude and appreciation for the services that they've provided! This will make it easier for you in hiring a IT consultancy.