October 13, 2022
Posted by:

10bits_mexican

Category:

Uncategorized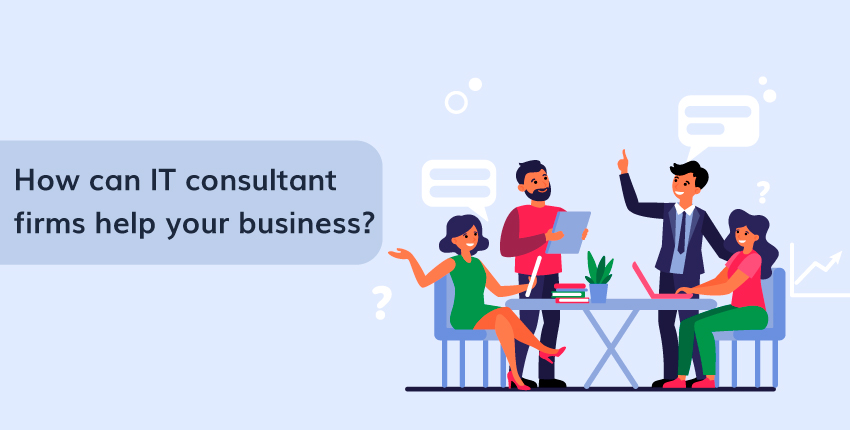 How can IT consultant firms help your business?
A small business organization often experiences the need for external expertise to accelerate the company's growth. To power up the next phase of growth, the organization may consider hiring an IT consultant.
With the ever-changing technology landscape of the business and economic realm, every organization needs to offer their customers excellent experiences to stay on top of their games. Improving efficiency with the help of IT consulting can let the company find new growth opportunities.
What Exactly is IT Consulting?
IT consultants guide business organizations to achieve their goals in information technology. They offer advice about technology and storing data to deliver an effective automation process and mobile security to the company.
With the help of a consultant, a business enterprise can continue its process smoothly without any interference or destruction from manual tasks. The business prepared to complete the real-world issues of implementation and system operation. For more than 90% of clients, the IT consultant offers implementation along with solution recommendations.
Work of an IT Consultant
A business partnering with the right IT consulting companies in the USA can exhibit win-win situations for both. Here are the responsibilities that become standard for a client seeking IT consulting services.
Our professional IT consultant would provide any business organization with well-planned and measured approaches for their ongoing system maintenance, security backup, or disaster recovery. Hence during times of change, the company would not face any data loss or outages.
Focus on the Core Business Functions
As the company helps its staff and employees to focus on their strengths, they can become more predictive and efficient for the company. Time becomes a constraint when it comes to motivating employees. But business organizations are now hiring IT consulting firms in the USA to get time for their employees.
Besides, the complexities that arise while managing the day-to-day tasks related to technology are supervised by the providers. It lets you have more time to focus on running the business functions.
Control the Operating Expenses
An IT consultant can save you from stress, time, and money. The consultancy offers services that help to control operating expenses under a well-planned budget. While they do their work, you can sit back and intervene in the core business operations. Hence, with an IT consultant, you are sure to experience business efficiency and long-term stability.
Boost Productivity and Performance
The business organization may increase productivity with the help of innovative and new ways. These IT experts offer guidance to change and upgrade according to the growing competition within the industry standard. The expertise in effective management can guarantee the business organization their success right from the beginning until the end.
With an increase in cyber security attacks, it is mandatory for businesses to protect themselves. An efficient IT security consultant can detect the vulnerability while establishing a recovery solution and building data protection protocols. A team of skilled IT consultants can help you implement the appropriate solution, keeping your data safe.
Tips to Choose the Right IT Consultant
There are endless criteria to find the right IT consultant for your company. You can consider the under-mentioned factors:
IT companies with lengthy track records and solid reputations may offer efficient services. Such companies are reliable to work with. You need to request testimonials from current and former customers before teaming up.
Along with being well established, the company must have access to and utilization of advanced technologies. A team that prioritizes minimizing investment and downtime in new software can be a great deal for your company.
Good customer support from the end of any IT consultant needs to be taken into account. Any good consultant will keep the company updated on everything, including the project status, delays, or setbacks.
Companies need to select IT consultants that offer transparency in their pricing structure. Expecting the best service comes with a higher price rate. Professional IT consultants would offer their skills and let you know about the services that they offer.
10Bits as a leading IT consulting services company helps business organizations solve problems concerning data or technology. We help business organizations with strategic design and implementation of solutions to enhance overall business performance. Our experts help the organization remain agile and work cohesively even in a competitive environment