January 13, 2023
Posted by:

10bits_mexican

Category:

Uncategorized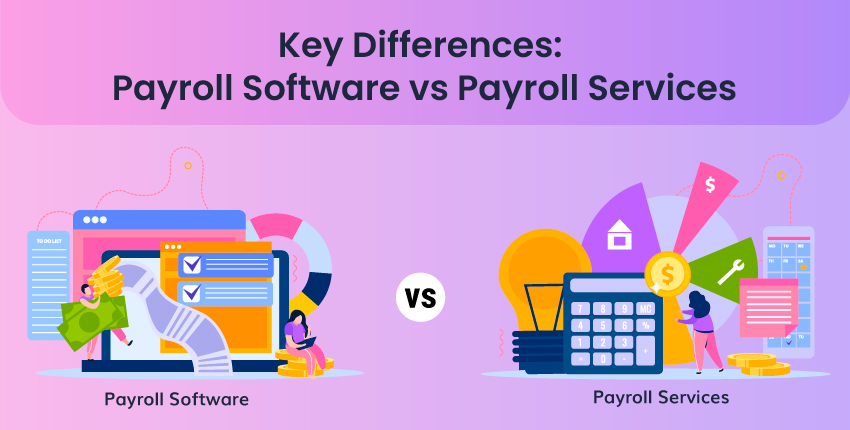 Payroll is an integral part of running a business, but it can be a tedious task with lots of room for error. About 65% of workers rely on stable pay periods to live paycheck to paycheck. The good news is that there is the option to pay for payroll software or outsource payroll services to a third party.
But how can one decide which one is best for evaluating payroll software and services?
Payroll Services
Payroll services are the outsourcing of payroll processing to a third party to keep things running smoothly.
Payroll services in the USA provide information on employee time and attendance, employee compensation, payroll tax and direct deposit. They also collect payroll information, monitor compensation and track federal and state payroll laws.
Pros of Payroll Services
1. Hands-off Approach
One of the biggest benefits of a professional payroll service is that the person in charge of finances doesn't have to worry about the details. This gives them time to focus on their core business and company growth. This is a very efficient way to delegate tasks and outsource time-consuming work.
2. Enhanced Assistance
Professional services also provide help beyond what is included in the software package. A prime example of this is tax returns. Filing an annual corporate tax return is a complex task and nothing can be done easily with just paper. This is highly relevant and can involve many decisions. Payroll services provide expert assistance in navigating this process. 
3.Cost-effective
Payroll services are cost-effective for many businesses when the cost of the software plus the labor costs of running it are added up.
4. Accuracy Guaranteed
In many cases, payroll services ensure payroll accuracy and reduce liability for errors.
5.It's Easy
Using a payroll service is the easiest way to ensure that the employees are always paid on time. And with a team of payroll experts managing the payroll, one can rest assured that everything is done right.
Payroll Software
Payroll software is typically offered as a SaaS product or software as a service. This means paying a regular monthly fee to use the software.This can be downloaded onto a computer or accessed from a web browser. One can also directly manage payroll as an employer or as a specific employee.
Payroll software is the do-it-yourself method when it comes to payroll.
Pros of Payroll Software
1. Easier To Make Changes
The management team has access to payroll through the platform and can customize the software accordingly. Authorized users can make changes as needed.
In contrast, businesses that employ payroll workers must contact payroll companies in the USA to change their processes. This can result in much longer turnaround times for major changes compared to the benefits of quick fixes to internal payroll systems.
2. Time Savings
Compared to manual payroll, software saves a lot of time.
3.More Internal Control
With in-house software, one never has to worry about third parties looking into one' finances or accessing sensitive data like social security numbers or employee IDs. It is safer to keep payroll under the umbrella of an internal system rather than outsourcing it to a payroll service.
Payroll software allows one to manage access rights so that only the most important employees can use the system and view information.
4.Long-term Vendor Relationships
Software providers can help with automatic updates and offer other types of services as well. Access to provider support provides the benefits of payroll services, including expert know-how and troubleshooting.
5.Security
If one, as the owner of one's business, is in control, it is less likely that someone will hack and steal one's payroll information.
Payroll software vs payroll services, which should one choose for one's business? The choice between implementing payroll software or using payroll services support depends on one's company's needs and existing processes. 
A good understanding of the current business environment makes the choice easier. Factors such as security and access, budget and employee skill level in the area of ​​salary are important parameters to consider when making decisions. 
Payroll software can be difficult to manage, especially when it has a lot of features, but it has a cloud-based alternative that offers an easy-to-use and intuitive interface. So choose one which would help the best and may the business flourish!
10Bits payroll services are customized according to client requirements. Our payroll services offer many benefits, including, but not limited to, maintaining payroll tax rates, tracking tax obligations, filing year-end returns.