October 29, 2021
Posted by:

10bits_mexican

Category:

Corporate Training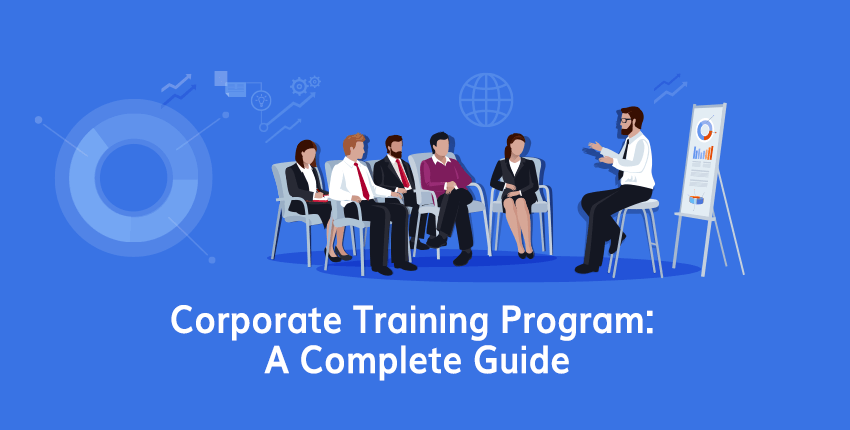 Corporate training is a program that ensures the proper improvement and enhancement of employee skills through professional development. Newly employed candidates can acclimatize themselves with the work environment and job responsibilities if training is introduced at the beginning and specific to the concerned department.
On the other hand, corporate training also enables the employees to upgrade themselves with the required skill set for a specific field of an organization.
Why Should Companies Embrace Corporate Training?
Corporate training programs are more in demand these days. According to a LinkedIn survey, it has been found that almost 94% of employees prefer staying in one company and progressing with it if the company invests in their skill training and development. It is thus a positive approach for both small and big organizations to take care of the career development of their employees.
This strategy is not beneficial for employees but also for the companies. Skilled and trained employees are more productive, talented and have the progressive attitude to tackle any challenges and translate them into the company's growth.
According to the American Society for Training and Development best corporate training programs bring about 218% more revenue and 24% more profit margins.
Best Way To Strategize Corporate Training & Development
The right strategy to plan out the entire corporate training session is the first essential step towards a successful process. The four main phases that comprise corporate training are as follows:
Onboarding- This phase is all about getting your employees to adapt to the different processes of the job, policies and introducing them to the work culture. This is an essential step of every company when they hire a new member or promote someone to a different level. This ensures that the new member feels welcomed, can embrace the work environment smoothly and understand the organization better.
Training- The next essential phase is to train new members as per their position and department. This training varies from company to company.
Development- The next step is to develop the skills and personality which means focusing more on communication skills, leadership skills and management skills. Development is needed so that every department of a company can function in a perfect rhythm.
Education-Many company owners believe helping their employees attain further education that may or may not be relevant to their current job is important. Education can help employers to achieve promotions and further develop their skills for the betterment of the company.
 Tips to Improve your Corporate Learning Strategy
With the entry of an unforeseen calamity called the pandemic, remote working became a norm corporates weren't ready for. To adapt to such changes, the system needs to be refined and upgraded so that the employees do not feel a burden. Each company needs to research new ways so as to keep their employees ready for any new change. At the end of the day, a business strategy must be enforced so that there is maximum productivity. No service or product will be worthwhile unless the foundation of its creation is strong. Employees shouldn't just work like machines, but should be educated on the actual vision and mission of the company to be the most effective. The learning strategy in a company should involve not just the mission of the company, but should also be flexible enough to evolve in such a way that no employee is forgotten or left behind in the dust.
Learn More

Still searching? Click here to find out 7 Tips to Improve your Corporate Learning Strategy
Ways To Improve Your Corporate Training
A great doctor once said that the patients are the best people to ask for their symptoms, that they would know their body the best. In the same way, companies may improve in the way their employees are trained by asking for their feedback constantly. Once the employees know the reason for their working there, they can provide inputs on what skills they need training for. By making their training hassle-free and in a friendly environment, the company can raise trustworthy employees instead of creating generations of machines and slave drivers. Making employees self-sustaining is more important than making them grow in only one field. If their talents and achievements are recognized and encouraged, they will have a more relaxed feeling to work diligently for the company.
Learn More

Still searching? Click here to find out Ways To Improve Your Corporate Training
 Reasons why corporate training is essential for your business
Corporate training, like any school education, is essential for the growth of an employee. With an overall positive growth of each employee, a company can grow. Business consists of presentation and convincing. These skills must be learned through training. Training should not just be a one-way street, but should be carried out so that any suggestion given by a trainee may be taken as positive criticism to enhance the company. Trainees can also learn from their colleagues, because each one's experience and expertise might differ. With a holistic approach, the training can be a means for the overall development of the employees. This in turn improves not only their day-to-day lifestyle, but also would prove to be a good move for the betterment of the growth of the company.
Learn More

Still searching? Click here to find out 11 reasons why corporate training is essential for your business
Types of Corporate Training & Development
Let us discuss the following types of corporate training that proved most beneficial and suitable for modern corporate needs.
Leadership & Management Skill Training:
The more employee engagement you have; the better your organization will grow. But employee engagement is only possible when companies provide them with promotions. To acquire promotion employees need to hone their leadership and management skills so that they can be valuable to the organization. To become a successful leader in a company one must:
Learn to be self-aware, disciplined and stay focused.
Learn to be communicative and show a positive attitude.
Learn to work with a team and enhance the collaborative culture.
Learn to set goals and acquire decisive skills to seize the most opportune moment.
Through one-on-one learning or group learning, corporate training can help employees achieve leadership skills. This is where corporate training companies come who know how to customize a training program according to the organization's needs.
Corporate Communication Training
Communication plays a pivotal part in any organization whether it's big or small. Employees need to express their ideas and thoughts in a proper way to manage conferences, seminars, meetings and presentations. It is one of the core areas of corporate training that determines the success of work culture and also maintains the brand identity.
Simply put, corporate communication is all about both public and media relations along with internal communication. Without proper communication leadership also fails. Thus for a consistent and effective corporate communication strategy, training is necessary.
Learn Corporate Work Ethics
For every department in a corporate house, it is absolutely necessary to understand basic ethics. Employees of all levels must get introduced to the company culture and work ethics through effective training methods. This will ensure safety and fruitful communication in the workplace.
Fresh recruits of a company as well as the members promoted to a new branch should cultivate the right morale to work harmoniously with others. Through simulated training sessions or e-learning programs, corporate training companies can inculcate the members with workplace ethics.
Soft skills are not just about communication ability. It includes personality development, attitude and emotion management. If your technical skills can help you crack the interview, you can win the hearts of the employers through your soft skills.
And corporate training can make the way easier for you. When employees learn to manage people, play well with others, encourage team spirit, tactfully complex situations and resolve conflicts, they can get any job done.
Corporate training thus comprises business etiquette, communication management, time management, emotional intelligence and other areas imperative for business development.
Technology Skills Training
Every industry requires manpower with technical knowledge to some extent. Some departments cannot work without properly trained employees and technical know-how. Thus technology training is one of the biggest parts of the corporate training module.
According to a recent study by Gartner, a global research and advisory firm, 80% of the employees lack the skills suitable for their department and job title. This drawback in most cases is found to be the lack of technical knowledge. Therefore it is necessary to prepare employees with software training and digital know-how.
Some of the resourceful training are:
Ethical Hacking.
Coding Bootcamp.
Microlearning to fill the skills gap.
Desktop computing skills.
UX/UI design.
Digital transformation.
Artificial intelligence training.
Learn More

Still searching? Click here to find out Types of Corporate Training & Development
Best Cybersecurity Practice
Every organization must keep data secured and safe. But team members or employees are negligent about cybersecurity, which can lead to breaches. Thus cybersecurity training is a must for both new and old employees of any type of business. From learning the cybersecurity basics to keeping files protected, corporate training can effectively implement the necessary awareness and expertise.
Methods To Implement Corporate Training 
When it comes to corporate training, the e-learning process is the smartest and coherent method. Below find all the major e-learning processes that enable corporate training to become fast, convenient and specific to the industry requirements.
Every organization wants to train employees according to their needs and skill level. Thus general corporate training will not fetch the desired results. This is why e-learning facilities are so much preferred. Companies can customize the training and development as their requirement demands. The flexibility of e-learning programs enhances corporate training effectiveness to a great extent.
Video Learning
This is one of the simplest and easiest methods for corporate training for any organization. Creating videos specific to the skills and department and then distributing them to the employees for reference can prove really helpful. With the helpful high-quality animated videos, the learning process can be made interesting. Users can access the video file at any time they want and learn whenever they want. It is not just a flexible mode of training employees, but also practical.
Virtual Training
Online corporate training through a virtual platform is another great way to incorporate training in an orderly manner. Virtual classes are instructor-led but the process works online. Both instructors and employees can join the session at the same time. This can be done in both ways-
The first method is where employees join a meeting room physically and the instructor trains online through the software. The second method was where both the parties join the platform using online conference mode. This is the most popular e-learning method these days as it encourages employees to come forward with issues and discuss with the instructor directly. Plus, the live session is always better which enriches corporate learning.
Social Media Training
Social media training is the smartest trend that not just brands but employers are also catching up. This is a collaborative learning method that involves major social media platforms such as Facebook, Instagram and Twitter. The best part of the social media training process is that it encourages learning cohesively for different levels of job titles. The major components of social media training are:
To determine employee roles.
To help employees understand the company culture.
To survey employees about their plans and comfort level.
To create a program based on employee level and requirements of a particular field.
Microlearning Technique
One of the most interesting ways to inculcate training is to create content as information nuggets.
This is known as the microlearning technique- one that is highly preferred by many corporate houses and even small business owners for their employees. Employees do not need to go through long pieces of information with microlearning. It allows them to focus on one particular topic and module. This way retention capacity increases and employees find it easy to learn.
If your employees tend to forget the training, it is high time to introduce microlearning that allows better retention rates and can fight the forgetful curve efficiently. With microlearning, every level of training can be made easier and specific to the topic rather than elaborating e-learning. Precise and simple learning is the most effective learning method for employee training.
Simulation Learning
Simulation is another way to carry out mandatory corporate training. Simulation is nothing but a way to mimic realistic experiences that are done with the help of specific technology and computers. This method proves useful for many companies to educate and train employees for complex learning processes. Simulations reflect the actual work environment of a particular department. Employees have to solve certain issues that have been set by the company to understand how the employees will face the problem and solve it.
Ways To Maximize The Benefits Of Corporate Training
Achieving the successful corporate training process depends upon several factors.
Always Get Your Mission Straight– IF you really want to achieve success through corporate training you need to understand what its purpose is. Ask questions to yourself like- What are you trying to achieve? Is it closing the skill gap? Or is it to increase productivity? Every company has its priority which enables them to understand the necessity of corporate training. But if your mission is not straight and you have no idea of the purpose, you will probably accomplish nothing.
Your mission will help you find out the reason for the corporate training. And that in turn will guide you in its proper implementation. Before you design any corporate training strategy, find your mission and goal.
Know What Your Employees Need– One of the biggest reasons that corporate training results in complete failure are not knowing the employee requirements. If you want to take your business goal to the next level, you must understand your employees' needs. Their career goals and skills will eventually affect your business. Thus conducting surveys before starting the corporate training is logical and practical. Ask your learners about what they want to advance their skills and then customize the corporate training for maximum return on investment.
Stick To The Schedule– If training and development is your priority you must get it started. Create a schedule and stick to the plan. This will help you achieve commitment and also enable your employees to stay positive and focused on the training sessions.
Advantages Of Corporate Training
Gives More Job Satisfaction– Corporate training and development sessions increase job satisfaction as well as employee morale. It is a great way to engage employees with an enriching and stress-free work environment. So your employees remain motivated all the time.
Increases Competence- Through corporate training, employees can achieve better skills and stay updated with the changing trends. This allows them to stay competent and effective at work.
Develops Weakness Into Strength- Your employees' weaknesses need to be addressed. And corporate training helps you to find solutions and design plans to turn their weaknesses into strengths. This in turn enables your company to stay ahead and competitive.
Wrapping Up:
If you are looking for perfect customized corporate training such as java and full-stack development training or performance testing, connect with10 bits. It is one of the renowned corporate training companies in the USA that provide world-class industry-specific corporate training.