February 28, 2022
Posted by:

10bits_mexican

Category:

Corporate Training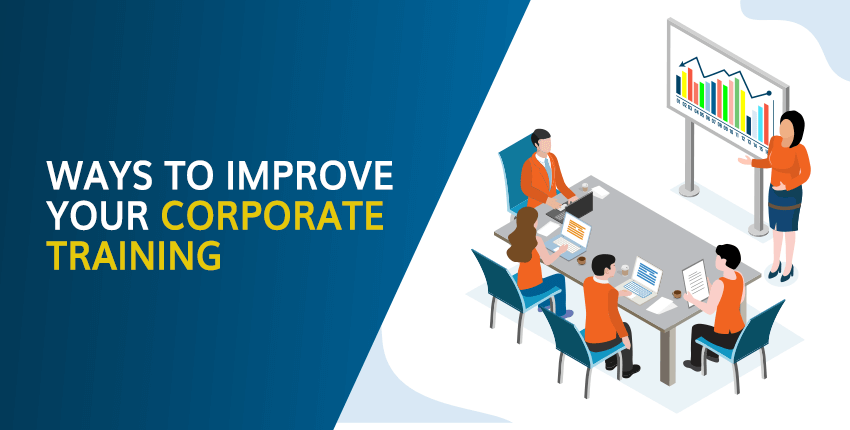 Introducing a modern training platform has made managing any employee training program quite easy. But designing them correctly and running them is the responsibility of every training manager. Besides, to boost employees' productivity, it is necessary to have training programs.
Check out the 7 innovative ways to improve the corporate training process:
Ask Your Employees What They Need
You can get the best information about your organizational performance from your employees. They are the best person who can tell you about things going on in your organization. If you are interested in your employees, you can get valuable feedback.
Provide Flexible Learning Options
With the help of e-learning, one can learn at their own pace. Certain skills would require in-person training. Make sure that your organization adopts a mixed training approach. Corporate training consultants like 10 Bits can help you achieve the needed learning resources. You can also expect custom training sessions to achieve idealistic results.
Take Learner Analytics Seriously
The things you cannot measure do not have any scope of improvement. But fortunately, modern platforms, namely 10 Bits, make it easy to get the progress statistics. Training analytics is one important requirement of any bigger organization.
Choosing 10 Bits, among the best corporate training companies in the USA, only provides you with a performance-oriented result. One can expect all kinds of services, including development, training, maintenance and support, project management and many more from this IT consulting platform.
Understanding the purpose of any corporate training program will help the organization improve its method. With high-level principles that guide the assessment and implementation of the training program, one can improve their corporate training process. With a mission statement, the company can improve the training and development in their company.
Teach Employees To Own Their Career Development
For sustaining in any organization, every employee needs to balance their hard skills and soft skills. Hard skills would help the employee to go through the daily workflow. But soft skills are needed when one has to deal with customer interaction. Using the training sessions of 10 bits, one can indulge in the in-person training. People can take up various skills in any realistic setting.
Build Trust In Organizational Leadership
Every organization needs to be honest, open and transparent to their employees. But the business leaders are the ones who are continuously facing trust issues. Both the managers and employees need to indulge in corporate training and build up trust. It can also help pursue the personal learning journey in the best way possible.
Provide your employee with the best training by 10 Bits. It can help the organization select their outstanding employees while making the whole training session fun and relevant.
Reward And Recognize Training Achievements
The best corporate training program will not work if the organization cannot motivate the employees. Encouraging and nurturing a learning culture can help employees work harder and be productive. Viewing the skill development of your staff with training courses like Java training or performance testing training from 10 Bits can help the employees be efficient.
With a customized solution, one can take up different challenges. Productivity, employee satisfaction, and engagement would benefit from taking services from 10 Bits. Our focus is mainly on every organization or company. Visit the website to make inquiries.