April 25, 2023
Posted by:

10bits_mexican

Category:

Application Development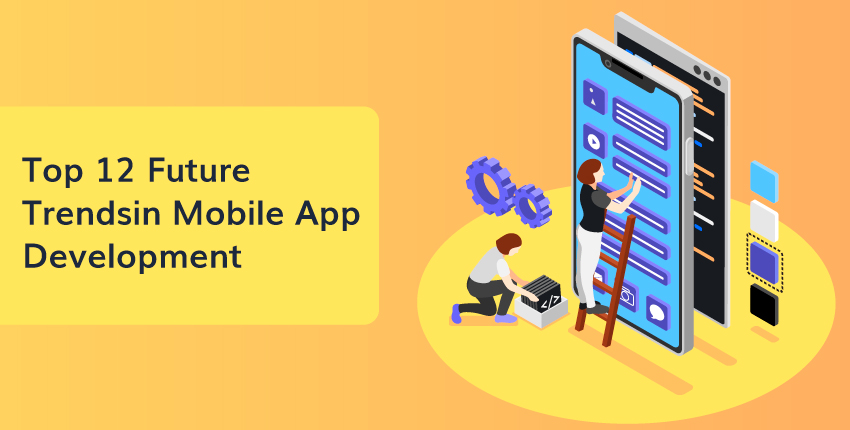 Mobile apps are an integral part of our lives. From ordering food to shopping online and booking travel tickets to staying fit—we can't imagine our lifestyle without apps. And with 5G connectivity and AI-based technologies making their footprints in today's age, mobile app development trends are must-follow. So let's quickly dive into the future of mobile apps. 
Trends in Mobile App Development
Here's what you need to know about the future of mobile app development.
eCommerce will rule over a significant part of the mobile app era. The current state of online shopping is evidence of the growing demand for eCommerce apps. Besides, the use of payment apps like Google Pay, PhonePe, Paytm, etc., have triggered advancements in online shopping. It has, therefore, accelerated innovations in eCommerce app development.
Mobile Apps with operational 5G
With faster internet speeds, better connectivity, and low latency, 5G technology will be at the forefront for delivering enhanced user experience. Therefore, the future will witness mobile app development companies in the USA and worldwide incorporating 5G into their apps. This will give rise to mobile apps with faster response times and better graphics. 
Modern business has adopted cloud computing as an indispensable part. Accessing data from anywhere and on any device makes cloud-based apps more secure and reliable than traditional apps. In addition, mobile users will be more inclined towards these apps owing to their enhanced user experience and reduced load on the device. 
Increase in Cross-platform App Development
Cross-platform development enables mobile apps to run across platforms like Android and iOS. This increases the app's usage among both the categories for mobile users—Android and iPhone. It also reduced the developer's job of creating two apps for each category. As a result, you'll see more cross-platform apps, benefitting both businesses and customers. 
Motion Sensing and Location Services
Motion sensing and location services are integral for health, fitness, and gaming apps. These technologies help track user movement and give personalized recommendations to users. Such features have enhanced the usability of these apps, prompting app development companies to focus more on these technologies in their apps. 
AI is responsible for several features we experience in mobile apps, including determining user interests and behaviors, fitness monitoring, etc. These features will get more advanced in the future with improvements in AI technology. For example, facial, biometric, and voice recognition will level up, as will the security for payment and banking apps.  
Augmented and Virtual Reality
AR and VR top the list when talking about technologies that drive engagement. Even now, companies like Apple and Google have enabled their developers to use augmented reality frameworks for app development. Besides gaming and entertainment, AR and VR apps will find endless opportunities in training, education, healthcare, and engineering. 
IoT has found its place in smart home technology, medical device monitors, smart refrigerators, and other connected systems. The ability of IoT-based apps to connect and exchange information makes mobile apps more smart, connected, and accessible. This will prompt more people to control their devices remotely via IoT-based apps. 
Wearable devices are already in trend, thanks to the advent of 5G and advancements in IoT. Shortly, this demand will increase as more people incline towards apps to control their wearables. That's the kind of personalization people expect in the future, and app development companies are bound to meet these expectations. 
The emerging payment methods have extended the limits of blockchain app development beyond NFTs (non-fungible tokens). Furthermore, the level of security and restrictions blockchain-based wallets provide is unmatched and will enhance in the future. So get ready to experience advanced blockchain technology and growth opportunities.  
Voice-Enabled Technologies
Voice assistants are the favorite part of most mobile users who like touchless phone interactions. Although the technology still has room for improvement, it's already creating huge user demand. It's primarily because voice controls allow users to perform specific functions using voice commands. The idea of hands-free mobile use is exciting, and it's enough to breathe life into the trend. 
Predictive analytics allows businesses and developers to detect the usage capabilities of mobile app users based on their past data. This helps marketing teams understand and curate their campaigns, offers, and product updates. The technology can also improve to the extent that users can experience automatically customized applications instead of altering settings themselves. 
The Future of Mobile App Development is Bright!
Now that you know it, are you ready to embrace the innovations and transformations coming your way? If yes, look for and invest in the best mobile app development company in the USA to provide your users with the experience they deserve. Improve user experience, engagement, and revenue with the latest app development technologies combined with personalization.