October 6, 2021
Posted by:

10bits_mexican

Category:

Corporate Training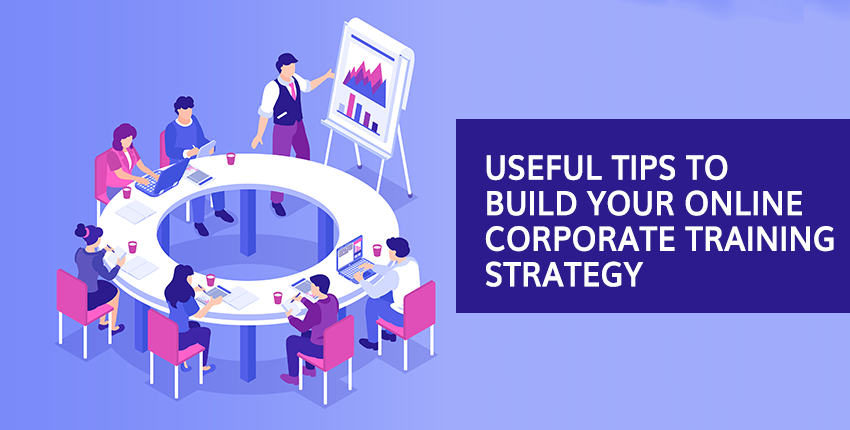 With most businesses and organizations tuning in for e-learning for their employees, the importance of online corporate training programs has grown exponentially in the last few years.
However, it will be a mistake for businesses to just start with an online program for employees without proper strategy. That won't do! To make sure corporate training programs work, there has to be a proper strategy and only real professionals can make it happen. This blog will put into focus all you need to make sure that this happens.
Tips To Build A Corporate Training Strategy For Businesses
What Is Your Company About?
This is the very first part of developing an online program that works. What is your company about? What are the values you want your employees to have? Understanding them is important because these are the things that the training program should have included.
Details about the topics that your online corporate training program should include, how long it should be and what technologies it should include are things to understand.
Your Old Training program
The next thing to focus on with the help of your corporate training consultants is what kind of training program your company had before. Even if it has failed or has not been very successful, understanding what it is about, discussing why it did not work and what things can be done to make it better are important conversations to have.
There is a need to evaluate it and how it can be improved. This can be the basis for your new training program.
Long Term And Short Term Goals
After you and your corporate training and development consultants have sat together and discussed what your new program is going to be like, got feedback from everyone, it is time to develop a strategy that will work. At first, you need to remove anything unimportant that you don't want to be included.
Then, think about the short-term goals of the effective training session you want to offer your employees. The focus should be on business and how it can be developed and boosted.
Long-term business goals are something good corporate training programs will also imbibe. For example, if your business is on the internet, then training your employees in cloud-based technologies can be a good thing.
Bring Balance
Developing a corporate training strategy is also about putting everything in balance. Not only should the company budget be adhered to, but employee availability should also be considered in developing a program.
The main thing is to keep in mind everything to make sure all needs and constraints are being valued.
A Concrete Strategy
After assessing everything, calculating all the numbers, and devising a concrete plan, it is time to deliver it to the upper management of the company to be okay-ed. The goal is always to minimize downtime, and cause the least amount of employee disruption. The online corporate training program should be focused on being the best for the company and its employees.
Do It Again
Lastly, a good corporate training and development program should always be dynamic and open to change to meet the needs of the employees and new recruits.
Conclusion
The best corporate training programs are created by working with the company that needs them constantly and closely. The idea is to develop something that they will not only be able to use but also that is relevant to the industry as a whole. At 10 Bits, the focus is always on the company or organization when building a corporate training program. Call them at the phone number +1 972-833-7455 today to make inquiries.