July 20, 2022
Posted by:

10bits_mexican

Category:

IT Consulting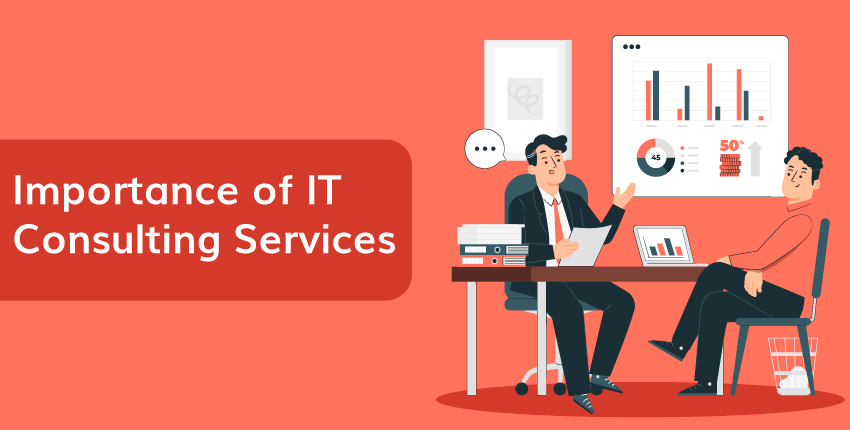 Digital transformation is a significant change in the way your business operates. It involves changing how your company uses technology and bringing your entire organization into a digital operating model. While this can vary greatly from organization to organization, it can be a huge undertaking and requires IT consulting services to make the necessary changes. It is important to plan carefully before undergoing this process because a single misstep can hold back a transformation project for years.
When it comes to IT consulting services, it is important to note that each process involves several stages. From idea generation to finished product creation, every project requires a consulting phase. Consultants discuss your idea and give you their advice. This is the most important part of the process, and every project starts with this phase. When it comes to consulting, it's important to take the consulting phase seriously and make changes before giving advice.
The Importance of IT Consulting Services
IT consulting services are essential to businesses in many ways. It can help you achieve a competitive advantage, increase your efficiency, reduce costs, and access top-notch knowledge. Here are three reasons to use them:
Achieving Competitive Advantage
A company's ability to adapt and embrace change is vital for achieving a competitive advantage. In the current business environment, stiff competition has made it increasingly difficult for companies to keep up with new technologies. Many companies are afraid of becoming outdated or irrelevant as a result. While most business owners understand the importance of keeping up with change, few of them have the necessary expertise to make the changes necessary to remain competitive. To gain a competitive advantage, businesses should look into technology consulting services.
Efficient for Small Businesses
A small business cannot afford to experience unwarranted system downtime. Even the most basic system failure can cost a business significant revenue. With the help of an IT consulting service, small businesses can prevent these problems before they occur. An IT consulting service will remotely monitor systems and ensure proper security and maintenance. The services will also provide a 24/7 response service. Small businesses are more likely to succeed if their IT departments are efficient.
When outsourcing your IT consulting needs, the biggest challenge is lowering the cost. Fortunately, there are ways to make your IT consulting costs more affordable. One way is to use On-Demand pricing, which allows you to pay only for the services you use. Certified consultants can analyze your current usage and make small changes to reduce your spending. Using this approach, you'll find yourself spending less money on your IT consulting services than you originally thought.
Access Top-notch Knowledge
IT consulting services provide small businesses with access to world-class knowledge without the expense and hassle of hiring full-time tech employees. These firms typically have a team of consultants who work together with the company to provide top-notch IT expertise. IT consultants can work on a contractual basis or as permanent employees, depending on the requirements of the company. Managed IT services offer a way to leverage their top-notch knowledge and expertise while keeping costs down.
IT consulting services require consultants with a broad knowledge of operating systems, software applications, and databases. Expertise in data modelling, databases, and programming languages is also important. IT consultants should be comfortable interacting with people from different cultures, from different levels of an organization. Advanced skills in Excel, VBA, and SQL are important, as are those in programming languages. Big data languages are increasingly popular. Candidates with these skills should have a solid foundation in computer science, particularly programming languages.
The success of your project depends on ensuring that your IT consultants implement best practices for your specific project. While best practices for service management differ from IT consulting to mainframe development, there is significant overlap. Identifying and implementing best practices is essential to business success and customer satisfaction. Here are a few tips to ensure your consultants follow best practices for your project. This roundup covers best practices for projects ranging from cloud to mainframe development.
An experienced IT consultancy company will assess your business's technology assets and recommend ways to streamline operations. You can also get recommendations from freelancers and vendors who can help you implement software packages. They will have a network of vendors and know which ones offer competitive prices. Additionally, they will have knowledge of which software packages are best for your type of business. This can greatly increase the likelihood of your project being successful.
Improve Internal Operations
In an internal service model, a shared services organization supports internal clients, including human resources, training and development, information technology, finance, quality management, health and safety and environmental services, business intelligence, planning, and others. This shared services model is a growing trend and provides the necessary tools to implement change quickly and effectively. In many organizations, internal consulting is an integral component of the overall IT strategy. These professionals are vital to the ongoing success of the enterprise, as they can provide critical business intelligence and strategic planning services to the entire company.
It is very important to have expert IT professionals working in your organization in order to increase the efficiency of your overall IT system. Having a team of professionals to help you with your IT issues can free up your employees to concentrate on core business activities. They can also help you with other expenses and other internal operations pivotal to the organization.