July 21, 2021
Posted by:

10bits_mexican

Category:

Corporate Training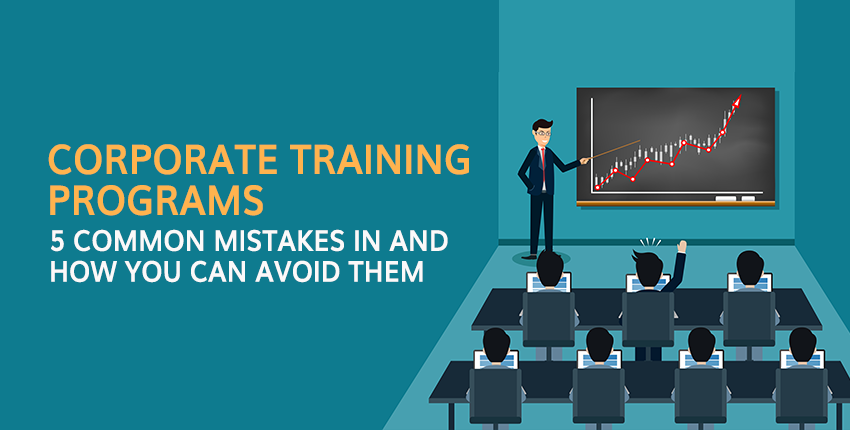 In a fast-paced and ever-changing business environment, corporate training is essential so that employees can update their skills according to market standards. Corporate training ensures that employees can fulfill the organizational goals.
But traditional methods of corporate training are no longer able to keep up with the requirements of the 21st century business world. A modern and innovative system of 'continual learning' needs to be developed to create an efficient and productive workforce. 10bits is one of the best corporate training companies in USA that helps businesses implement such a system in their organization.
Following are some of the common mistakes of corporate training systems and the solutions for these issues:
Failing to Engage with the Workforce
Often, it is found that the corporate training program implemented by an organization does not align with the aspirations and needs of their employees. This results in a lack of staff engagement with the training course and reduces the effectiveness of the program. A study has found that organizations usually design training courses geared towards technical skill development, but employees are usually more in need of and want to learn more soft skills. There is a long list of training programs for employees but 10bits develop a customized curriculum to suit the workforce of a specific organization. They develop an interactive and engaging course structure for effective learning that can be practically implemented.
Failing to Gather Feedback from Employees
A common mistake in most employee training programs is not collecting or disregarding employee feedback regarding the training course. Employee feedback is essential to adapt and modify a course to give the highest level of operational impact. 10bits creates specially customized training programs and schedules keeping in mind employee feedback and satisfaction.
Forgetting the Practical Aspects of Employee Training
The primary goal of all corporate training courses is the practical implementation of the newly learned skills in day-to-day operations. But often, theoretical learning and memorization-based assessments obscure this basic objective. The learning from the corporate training program does not find any practical application. Corporate programs designed by 10bits have practical, hands-on, industry-oriented learning experiences that assure industrial growth for enterprises. The employee assessments conducted by 10bits learning courses are also oriented towards industrial skill acquisition.
Not Adapting Adequately to Employee Needs
Not all employees at an organization have similar learning needs. Some employees require assistance in particular areas of operation, while others may require training for other aspects. The learning styles of employees can also vary. While some employees thrive in lecture-based classroom atmospheres, others may find a practical interactive learning experience more effective. 10bits corporate training programs are designed to accommodate a variety of employee needs. Regular individual growth assessments are also conducted to ensure that all trainees are able to pick up the skills being taught by the course.
Making Learning a Slow Process
Many corporate training processes becomes ineffective in bringing about any substantial workforce improvement. This is because the course schedule and curriculum require too much time from employees that they cannot and do not want to commit. A research study conducted by LinkedIn in 2019 on corporate training found that almost 74% of all employees prefer to complete their training in their spare time during work hours rather than to spend extra time after work on training. Modern corporate training consultants suggest that in order to ensure maximum effectiveness, training curriculums should be broken up into small chunks that can be completed in short 15 minutes breaks during work, rather than requiring hour long intensive lessons weekly.
The 10bits corporate training programs have a customizable schedule that can be modified to meet the requirements and preferences of a particular enterprise workforce.
We are one of the leading Corporate training companies in the USA and provide services that are beneficial for both employees as well as their organizations. But in order to ensure that the investment in training pays off, it is important for enterprises to select the best corporate training programs that are the best fit for their industrial goals and operational needs.